Reema is a Partner in the Charity Team. She acts for a huge variety of charities, ranging from start-ups to historic charities, locally focussed charities to those working internationally, and for both grant-making and operational charities.
She specialises in charity law and governance, and how they apply to charities in practice.  She is particularly experienced in the technical and complex aspects of charity law, such as dealing with permanent endowment, the de-restricting of restricted funds, the re-writing of complex governing documents and the amendment of charitable objects.  
She gives technically robust legal advice which is workable for charities in practice.
 
Reema is experienced in a wide range of work:
•    Governance and board reviews, including reviews and re-writes of governing documents for charitable companies, charitable incorporated organisations, charitable trusts and Royal Charter charities
•    Removing or adapting restrictions on how charitable funds can be used, such as permanent endowment restrictions and restrictions on purposes
•    Disputes among trustees, and between charities and their stakeholders
•    Interactions with the Charity Commission, both contentious and operational
•    Restructures, mergers and collaborative working 
•    Fundraising, including working with professional fundraisers and commercial partners 
•    Group structures and trading issues 
•    Incorporation of unincorporated charities
•    New charity formation and registration
 
Reema studied History at New Hall College (now Murray Edwards) in the University of Cambridge, followed by studying Law at BBP Law School.
Reema enjoys the specialist governance work involved with Royal Charter charities and lead's the firm's cross-sector group focussed on this type of charity.  She works particularly closely with Royal Charter charities operating in the areas of education, medicine and music.  
Reema has an interest in advising working with which have a particular emphasis on supporting women and girls, which covers a wide range of charities working in education, health, employment, poverty and many others. She was a trustee of a domestic violence charity for several years, which was not only rewarding but also gave her insight into clients' perspectives and what they want from their lawyer.
Reema also has an interest in armed forces charities. She has supported several to simplify their structures and strengthen their governance, helping them to stay focused on their beneficiaries. Her work for armed forces charities includes advising on mergers, restructurings and incorporation; alterations to charitable objects to meet veterans' changing needs; relationships with corporate supporters; and the occasional dispute.
Reema is the Vice Chair of the Charity Law Association.  The CLA is one of the key organisations which provide technical input to help develop charity law.
Reema has been involved in several CLA working parties.  She is chairing the working party responding to part 2 of the Fundraising Regulator's consultation on changes to the Code of Fundraising Practice, having chaired the response to part 1 of the consultation in 2022.  She chaired the working party which responded to changes to the Charity Governance Code in 2020, and participated in working parties which considered the Charities (Protection and Social Investment) Act 2016 and the Charities Act 2022.
Reema strongly believes in the principles and values behind the push for greater equity, equality, diversity and inclusion in the legal sector and in charities.  She is a member of the CLA's EEDI working party, which seeks to offer access to the CLA's work as widely as possible.  She is also a member of Stone King's EEDI strategy group, which works to strengthen and support the firm's commitment to EEDI.
In 2023 Reema was recognised as one of the best lawyers for charity law by Best Lawyers.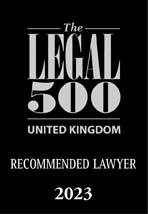 What our clients say
"Reema is someone who is very good at getting things done and I really like working with her on the other side."
What our clients say
"Her careful advice was invaluable to our organisation."
 
What our clients say
"Reema Mathur is very active in the market and proactive in the sector"
Legal 500, 2021
What our clients say
"She is able to provide strategic advice and guidance, whilst also thinking through the practical realities."
Chambers - 2019
What our clients say
"Distinguished by her hard work and diligence in charity matters."
Chambers - 2019
What our clients say
"She has been a great help - she provides pragmatic advice and can be relied on to assist at short notice."
Chambers - 2017