Stephen Ravenscroft
Partner, Head of Charity Sector
Stephen advises a wide variety of charities on their affairs, from charity formation and governance to operational matters, including management of major transactions and restructures. He also has extensive experience advising charities on their dealings with government, both national and local.  He is also well known for his work with charities operating in the education sphere. This includes not only education providers and funders but also charities providing essential education infrastructure and sector bodies at the forefront of education policy. 
Stephen has specialised in charity law for over 25 years and has a broad-based practice, acting for many large well-known charities as well as smaller and newly established organisations.
He has a national reputation for his work with education related charities. He has worked with education providers of all types and, having been involved in the school academies project from its inception, he worked on over 80 sponsored and 200 converter academy projects. This background means he brings a depth of expertise and understanding to his charity law advice to education charities, whether they be schools, colleges, education groups or sector bodies.
Stephen has also led a number of large projects to establish charities to take on services, such as leisure facilities, previously provided by local authorities and has dealt with the complex structural and funding and property relationships involved. 
In addition, Stephen has long experience advising on fundraising techniques and regulation. He has advised, over the years, on many emerging and innovative fundraising techniques, some connected with high profile fundraising events. His expertise includes lottery regulation – on which he has given evidence to the Parliamentary select committee, the Culture, Media and Sport Committee. 
 
Reflecting his interest in education related charities, Stephen is a trustee of Bridewell Hospital, a charity established to operate two schools and he sits on the Diocese of Arundel and Brighton's Academies Performance Committee, a group which oversees education within the Diocese.
He is a member of the Charity Law Association, and has previously served for 9 years on its Executive committee. 
Recent work includes:
Leading an in-depth governance review for a high-profile charity with well-known celebrity supporters
Advice on the separation of a leading independent school from an associated higher education body
Advice on a novel lottery fundraising scheme incorporating a free prize draw entry route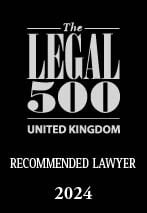 What our clients say
"He is professional, skilled and knowledgeable."
What our clients say
"Stephen is outstanding."
What our clients say
"Stephen is an outstanding lawyer."
What our clients say
'Stephen Ravenscroft – Responses to claims have been handled with judgement, care and sensitivity, and have seen the firm working successfully and very constructively with trustees of the trust and gallery'. 
 
What our clients say
"Stephen is fantastic - he's always able to pick up the most complex of situations. His customer service and client interaction is excellent."
Chambers - 2023
What our clients say
 "Stephen led negotiations and had a very strong grasp of everything. He was a delight to work with."
Chambers - 2023
What our clients say
"Stephen Ravenscroft is an educational specialist"
Legal 500, 2021
What our clients say
"Pragmatic and commercial, and a really detailed and academic black-letter lawyer."
Client feedback in Chambers - 2020
What our clients say
...impresses with his "incredible retention of detail and his forward thinking."
Chambers - 2011
What our clients say
...is "outstanding".
Legal 500 - 2012
What our clients say
...is highly regarded for his work with third sector clients. He works with a broad range of charities across a wide spectrum of issues, including charity registrations, governance, mergers and trustee issues.
Chambers - 2013
What our clients say
...impresses clients and peers with his "user-friendly approach," as well as his vast expertise advising both academies and charities on a wide range of issues. He acts as the ongoing charity law adviser to Pears Foundation.
Chambers - 2015
What our clients say
Stephen Ravenscroft is a charity law expert who works with education clients and has experience of establishing academy umbrella trusts. "He is a great technical lawyer," say observers.
Chambers - 2015
What our clients say
Stephen Ravenscroft is well known for his work on charitable matters in the education sector, with noted expertise advising on academy conversions. His broader expertise in the not-for-profit sector includes work on governance and compliance issues.
Chambers - 2016