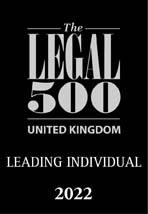 Tim Rutherford is a partner and Head of the firm's national Charity & Social Enterprise Sector Group. Tim specialises in advising on charity law, governance and related issues. Tim is also experienced in advising charities and organisations in relation to insolvency and risk management issues.
Professional Experience

Tim has a national reputation for advising charities related to faith organisations (in particular Roman Catholic religious orders and Dioceses and Anglican religious orders) and Almshouses. He was responsible for the first incorporation of a Roman Catholic religious order charity as a CIO and has since established more than 40 similar CIOs in the past few years. Tim is a regular speaker at sector events including providing trustee training to the members of the Conference of Religious (the umbrella body for all Roman Catholic religious orders), speaking on charity matters to the International Union of Superior Generals, presenting at the Catholic Charity Conference, presenting to the Almshouse Association and presenting to the Conference of Catholic Diocesan Financial Secretaries on charity and canon law issues. Tim was the editor of "Embracing Change", a handbook prepared for Roman Catholic religious institutes to mark 2015 as the Year of Consecrated Life and the follow up publication, "Consecrated Journey" that provided a governance handbook for trustees of religious institutes.

Tim is based in our Bath office, but divides his time between our Bath and London offices. Tim is recognised by Legal 500 as one of the two leading individuals advising charities in the South West and by Chambers & Partners as a leading individual advising charities nationally.

Tim is a member of the Executive Committee of the Charity Law Association and the current Chair of the CLA's standing committee on model constitutional documents. Tim was formerly a Trustee of the Bath Volunteer Centre and has recently finished two terms as a member of the Parochial Church Council of Bath Abbey where he remains a member of the finance committee.

Tim is an ADR Group accredited mediator.

Academic Experience

Tim read Economics at Downing College, Cambridge University and also has a Masters degree in Economics from Cambridge.  Tim completed the Common Practice Examination and the Legal Practice Course at the College of Law in London.

Interests

In his free time Tim is an active runner, having completed several half marathons to raise funds for local charities in Bath.

Case studies / Accomplishments

Lead adviser on a significant number of incorporations of Roman Catholic religious orders as charitable incorporated organisations (including carrying out the first ever such incorporation). Acting as the Lead Adviser on the separation of Downside School from Downside Abbey after centuries of the Abbey being responsible for the management and operation of the School. Advising several major community benefit societies on their re-registration as charitable companies. Advising two Roman Catholic Diocese on their incorporation as a corporate charities.

Advising several almshouse charities on the ability, with consent from the Charity Commission, to swap their permanent endowment assets for non-permanent endowment assets. Advising on the restructuring on an unregistered company incorporated in the 18th century.
What our clients say
'Tim Rutherford provides an excellent service to my organisation. He responds quickly to all enquiries and provides simple and comprehensive advice, even when the subject matter may be very complex indeed. He is very approachable and is always willing to help.'
Legal 500, 2021
What our clients say
"accessible and responsive...happy to explain difficult issues and to the discuss solutions. He has a sound knowledge of charity law"
Legal 500 - 2019
What our clients say
"Market observers comment strongly on his intellectual prowess."
Chambers - 2013
What our clients say
"He is a popular figure in the market, known for his approachable manner and good advice."
Chambers - 2014
What our clients say
Tim Rutherford is noted for his "sharp, incisive mind and pertinent, focused and relevant contributions"
Legal 500 - 2017