Tony Pidgeon
Partner, Head of Dispute Resolution Team
Tony became head of Stone King's Dispute Resolution & Litigation team in 2018, having joined the firm in 2010. His caseload focuses on high-value commercial litigation with a particular emphasis on real estate disputes.
Tony's commercial litigation practice centres on contractual disputes, breach of fiduciary duties, procurement disputes and injunctive relief.
Tony has considerable experience of real estate disputes in a wide variety of sectors. Examples of his real estate disputes include dilapidations claims, forfeiture, possession of land and trespasser claims, telecommunications issues, development and overage disputes, Right of Light claims and lease renewals.
Tony repeatedly acts for national charities, educational establishments and significant corporate clients.
He is a member of the Property Litigation Association and is also on the Charity Commission's panel of Interim Managers.
Sector Experience:
Charity & Social Enterprise
Tony's experience in the sector covers everything from advising Trustees as to their duties and liaising with the Charity Commission, to complex disputes and investigations.  Recent work includes:
Successfully defending injunctive proceedings in an unusual case concerning property rights in the context of a cemetery;
Dealing with complex historical undue influence claims;
Acting in a high-value Right of Light dispute in a central London location.
Education
Tony has considerable experience of the full range of disputes that educational institutions face. Recent cases include:
Defending a maintained school in a complex lease claim worth £8m, through to the Court of Appeal;
Acting for a number of contracting authorities in a substantial procurement disputes.
Business
Recent cases include:
Acting for a national Spanish company and a related party in multi-party High Court proceedings involving claims of lawful and unlawful means conspiracy;
Advising in relation to complex and connect partnership and company dissolutions on behalf of outgoing directors.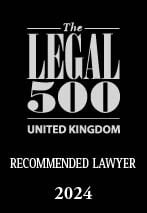 What our clients say
'Tony Pidgeon is personable with clients, calm and level-headed in the midst of fast-moving litigation and able to quickly assemble a team of solicitors and counsel to deal with disputes.'
 
What our clients say
"Particularly recommended is department head Tony Pidgeon, 'an astute litigator, who is quickly able to cut to the heart of a complicated and fractious dispute'."
Legal 500 - 2019
What our clients say
Tony Pidgeon 'responds to his clients with appropriate urgency' and provides 'thorough but accessible explanations'.
Legal 500 - 2017