Tracey is a highly experienced family lawyer with more than 30 years' experience. Tracey specialises in matters that involve significant assets, business interests, trust arrangements - UK based and international - and all types of pension arrangements.
It is crucial that anyone that is looking to separate or divorce has the correct legal team in place to support them. Even if matters are amicable and the parties are trying to reach an agreed solution by being constructive, which we endorse is the best approach, where there are assets of significant value involved advice is needed on various elements of that agreement.
Tracey is a member of Resolution and a qualified Collaborative lawyer
Professional Experience
Tracey has advised clients where they or their spouse are shareholders / directors in a limited company structure, or partners in partnership. It can range from a small family business to a business with non-related directors and shareholders.  Issues that are typically required to be determined are;
Property valuations.
 
Independent accountant valuations.
 
The relevance of being a majority or minority shareholder as that impacts on the position of governance and a discount on the valuation of those shares may apply.
 
Liquidity. Whatever the value of a party's shares are there sufficient funds available to pay out the other party? The ability to sell or transfer shares is governed by the shareholders agreement. There might be obstacles which require a creative solution. Although there is a company structure does the company in reality operate as a partnership. Typically, an assertion that might resonate with family and small businesses.
Where businesses are involved an analytical approach is often required and Tracey has a passion and interest in numbers and all other aspects connected to business structures.
 Invariably the assistance of an accountant will be required during the process and our family team have access to specialists in this field who they work with on a regular basis.
Tracey has extensive experience in dealing with defined contribution and defined benefit schemes and in particular the NHS pension schemes. There are different NHS pension schemes - 1995 /2008 and the 2015 schemes. The former moving to the 2015 scheme from April 2022.
Pension sharing orders are common although a staggering statistic show that less than 20% of divorcing couples include pensions within their financial settlement. 
Often, the input of an Actuary is required to advise on outcome. We have a number of specialists who can help with this.
Tracey has experience dealing with both UK and overseas trusts. Trusts can be very complex and issues around the nature of the trust require specialist advice in terms of how an interest in a trust will be treated if you be going through a divorce.
A pre-nuptial agreement, is a formal, written agreement between two partners prior to their marriage. It sets out clearly how their finances are to be dealt in the event of divorce. The intention is to have clarity about what it is they intend in the event of a future divorce in order for them to make it clear from the outset what has been agreed between them therefore trying to remove any uncertainty in the future.
A pre-nuptial agreement must be well thought through and there are various factors that have to be considered and information provided. Pre-nuptial agreements are often popular where there is a second marriage and the parties are seeking to preserve wealth for their respective children. Similarly, parents can quite often be interested in making sure that these agreements are entered into if children have already been given funds by them, or are beneficiaries of an existing trust. 
Whilst Tracey is based in our central Bath office she regularly acts for clients who are based outside Bath and Bristol. Tracey is able to see clients in person and via video call meaning she represents clients nationwide which is particularly helpful for those who would prefer to instruct someone out of their local area.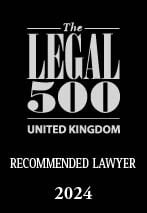 What our clients say
"Tracey was exceptional in her work and I felt very confident in her advice."
What our clients say
'Tracey Smith is very knowledgeable but not afraid to see assistance when warranted.'
 
What our clients say
 "She has a calm, professional and reassuring manner derived from her high level of knowledge and experience."
Chambers - 2023
What our clients say
"She is very impressive and very capable."
Chambers - 2023
What our clients say
"She looks for pragmatic solutions to very tricky issues."
Client Feedback in Chambers, 2022
What our clients say
"Tracey Smith is excellent, she was sympathetic and knew that this was a very harrowing time while being very thorough and leaving no stone unturned."
Client Feedback in Chambers, 2022