Andrew is a Partner and Head of the Court and Regulatory Team. He has over 25 years experience as a  Regulatory and Criminal practitioner who practices in the Crown Court and Magistrates Court. Andrew has been a Solicitor Advocate for over 10 years having attained his Higher Court qualification as a consequence of his experience.
In his regulatory practice Andrew represents a cross section of clients regarding regulatory and disciplinary issues. Whilst his practice is broad he has particular expertise representing transport concerns at Public Inquiry and in the courts. He is a panel solicitor for Logistics UK.
Andrew's practice also involves representing clients regarding regulatory breaches ranging from PLCs to private individuals. The range of breaches includes Health and Safety issues, CITES, Trading Standards prosecutions, Property Mis-description, and Planning and Environmental breaches. He is an acknowledged leader in the field of CITES regulation.
Andrew's criminal practice highlights have included defending multiple allegations of murder, defending prosecutions by the Serious Fraud Office, and defending the first prosecution of a pyramid scheme.
Andrew has extensive experience in the Education Sector defending schools and other educational institutions in the Courts. This includes being one of the few Advocates to have defended educational institutions regarding offences of conducting an unregistered independent school.
As an advocate Andrew also represents and prepares cases for Inquest before the Coroner. Clients represented include a cross section of interested persons from next of kin to schools and companies. Andrew has acted as advocate for clients at a number of inquests which have reached national attention including in cases where his peers have been Kings Counsel.
In addition, Andrew defends motoring offences. He has an excellent record of ensuring that clients facing discretionary disqualification from driving avoid disqualification. Offences defended include speeding, failing to identify a driver, drink driving and also tachograph and roadworthiness offences.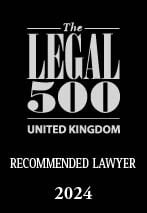 What our clients say
"Andrew delivers an excellent and professional service."
What our clients say
"Andrew is a brilliant lawyer who knows his stuff and is fantastic with clients."
What our clients say
'I have worked directly and exclusively with Andrew Banks – a confident, charismatic and understanding professional, I have worked with him now for a year on a particularly complex case. We have developed both a professional and personal rapport and I always find him to be on the ball and engaging. He has demonstrated exceptional patience and kindness throughout our working relationship. I have found his work to be faultless and some of the best I have experienced in the many experience I have had with different solicitors. I would recommend him without hesitation and have done so since working with him.'
 
What our clients say
 "Andrew Banks is an amazing professional who we hold in very high regard. He is caring, personable, attentive, clever and knowledgeable."
Chambers - 2023
What our clients say
"Andrew brings a degree of realism and takes the trouble to ensure clients know exactly the position they are in. He is excellent at client care."
Client Feedback in Chambers, 2021
What our clients say
"Andrew Banks will leave no stone unturned to assist clients or counsel in preparing a case."
Legal 500, 2021
What our clients say
"He understands the business and does things quickly,"
Chambers - 2019
What our clients say
"He is someone I've seen recently, and he did a really good job for his client. Not only a good lawyer, but pleasant. He is known for his work in road traffic and health and safety prosecutions as well as general crime. He is an advocate in both the Magistrates' and Crown Courts."
Chambers - 2013
What our clients say
"Andrew Banks is well regarded by market sources for his work in this space. He regularly represents clients at public inquiries and assists with the defence of transport-related and criminal matters."
Chambers - 2016